NOVEMBER 2018
Posted Nov. 23, 2017
Tiny Tales of Terror: Give and Take
By J. J. Travis
His only wish when he went to bed at night was that he would dream of her. She was a co-worker who was kind to him at work, and he loved her. She was beautiful, smart, personable, and married. She seemed to like him and manifested her affection in small physical ways, showing him enough attention to excite and confuse him as to her intentions toward him. Women had always found him singularly unappealing, except for her. He did not dare hope that she cared deeply for him, yet he prayed that she did. He needed someone to feel something for him. But he would settle for dreams of her at night. It would have to be enough.
"I can give her to you," the voice said from the darkness of his bedroom. It was not a human voice.
He stopped breathing … listened. The voice had been vivid and solid. He felt awake, yet believed he must be asleep.
"I can give you many things," the inhuman voice said from a corner. The darkness there seemed to shift, crouching low. The voice was real. This was no dream. Or he was insane.
"Are you the devil?" he asked the darkness.
"I am many things. We are the beasts that roam free and choose capriciously. It is our amusement and our sustenance to offer boons. You need forfeit nothing. The outcome provides nourishment and pleasure. We have the power to provide and do so freely. Our payment is the possibility of amusement. We sup on that. What say you?"
"I don't deserve her. She deserves better; she has better. She's simply a kind woman showing kindness to a desperate and lonely man. I can't expect any more than that."
"You can't if you don't act upon provided opportunities," the monstrous thing said with a touch of petulance. "I was attracted by the scent of your desperation."
"Bugger off," he said to the shadow-thing.
It was gone. It took him many hours to convince himself that he had been asleep and dreaming. He eventually fell asleep. He did not dream of her.
* * *
He gradually became aware of the fact that only he could see the dog. It wasn't a dog, but the rational part of his brain tried to convince him that that was what the creature must be. It was vaguely dog-like, though much too large and grotesquely unformed and rudimentary. But the maw was wide and always grinning; the eyes were sparked with burning fire and always focused on him. It padded along behind him as he walked the mile to work — to her — the reason he stayed at a job he despised.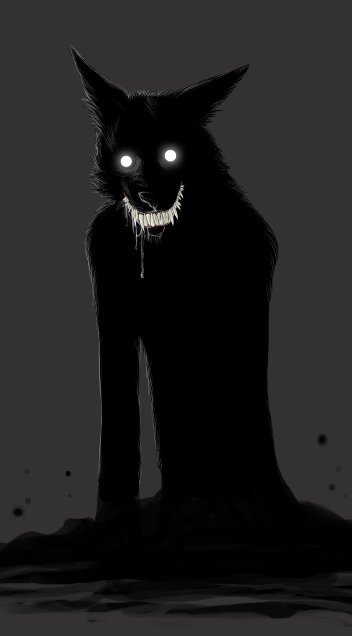 All day it sat on its haunches in a dim corner of the warehouse where he worked, hot eyes watching him, the eternal grin never faltering. He convinced himself he was delusional, slipping into insanity. It was preferable to the alternative.
* * *
"If not her, then something else," the thing in the bedroom said that night. "Let me serve you."
"Go away."
"Why waste opportunities offered you? Do you enjoy suffering? Is misery your lot? You are pitiful; I can change that."
"Go away."
"Sad little man. You won't be missed. Quotas must be met, and I am hungry."
The thing was no longer in the corner. It was on his bed now, crawling up over him … the darkness suffocating, flowing into him. It had to feed, one way or another, and took what was available.
He got out of bed, went to the bathroom medicine cabinet, and took an overdose of a prescription pain medication. His death was not quick or painless.
* * *
One thousand miles away the man lay in bed, frightened. Burst blood vessels had destroyed his central vision in both eyes. The specialists could do nothing. He suffered from myopic degeneration and was quickly going blind.
"I can help you with that," the voice said from the darkness..
OCTOBER 2017
Posted Oct. 24, 2017
Halloween 2016 in England: Black Stars and Orange Moons
By Mark Mawston
Hello, once again, from Ghoul Britannia.
As ever by mid-September, Halloween plans, like the proverbial Martian red weed, began to take hold, instigated by that same colour creeping into the leaves and ivy covered walls. As Conal Cochran said in Halloween III: Season of the Witch (1982), "The stars have aligned and it's time again."
The first really cold night was Sept. 15, when I found myself in Brixton, South London, where I was attending a "Life of David Bowie" exhibition. I was thrilled to have my photo one-shot of "The Starman Goblin King" (as my daughters call him) concluding the exhibition as it was taken at his last U.K. gig and second-to-last gig ever. It felt very NYC as we left the exhibition and stepped into the cold misty air, but obviously I was thrilled to be shown in the same exhibition as some of my photography heroes. It was a great start to what now felt to be officially the start of the Halloween season.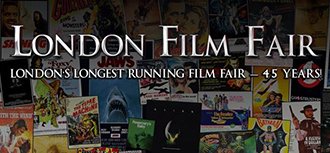 Just two days later, again with camera in hand, I found myself at the London Film Fair where I met and photographed many of the genre stars we here at Scary Monsters love, such as Virginia Hey (The Road Warrior, 1981), Valerie Leon (Blood from the Mummy's Tomb, 1971), and Shane Rimmer (Dr. Strangelove, 1964), with the main theme being stars of the James Bond films. This event was followed by a similar themed event at Pinewood studios where, again, the event was held by Bondstars.com and celebrated the work of Peter Lamont. The great and the good came to pay tribute to the great set designer with stars such as Caroline Munro (The Golden Voyage of Sinbad, 1973), Madeline Smith (Taste the Blood of Dracula, 1970), and author Marcus Hearn, who said, like I have many times, "I wish I could have told my younger 14-year-old self that one day I'd be stood between a Caroline and Maddy sandwich! I'd not have believed it."
Exactly a month from that first feel of autumn in the air, on Oct. 15, my wife, myself, and our kids Mauve and Xanthe, found ourselves at a new and wonderful Tulley's Farm experience near Brighton, on the South Coast of England, but far enough inland to be surrounded by the kind of swaying husk-ridden fields that the "Children of the Corn" would have taken to. We arrived early after a raging storm the night before. Although a few of the rides and attractions were delayed in opening due to the amount of rain that had fallen, it meant we virtually had a free rein of the park and many of the attractions that were open. So, rather than queuing for more than 45 minutes for each thing, it took us 45 seconds just to walk in. Some of the attractions were wonderful, and we all really loved the Alice in Wonderland-style maze house. "The Coven of 13" was huge, never ending, and full of Day-Glo and neon spooks just frightening enough to keep the kids moving very quickly through its darkened hallways. By the time the "Haunted Hayride" opened, the autumn sun was out and that wonderful seasonal smell of cut, wet hay filled the air. There was even a huge air-filled bouncy castle, although this one was in the shape of a pumpkin! However, the girls' favourite ride was the "Haunted Mine" which was a virtual fixed-car, point-of-view ride. A trip in an old mine car was what you watched on screen and the way it turned and rose made you think that's exactly where you were. The fact that it was a paying ride and the kids wanted to go on again and again meant it was literally a gold mine for its owners!
There is a wonderful tree on the street where we live that the kids and I have always called "The Halloween Tree" (à la Bradbury) as it turns the most amazing gold and red just as Halloween approaches. Once it turns, we know its nigh on time to head off on one of our trips, so as it turned as golden as an autumnal setting sun against the blue sky, we headed off for this year's adventure.
We first stopped off to visit a friend of mine who is converting an old windmill into his home, the spookily named "Blackthorn Mill." With 360-degree views from the top, and a cavernous basement he built into the hill on which it stood, it was a great place to stop off for refreshments before taking the kids to Turpins Lodge, one of the oldest horse riding schools in the country, named after the famous highwayman Dick Turpin, who was a sort of horse riding Robin Hood in English folklore.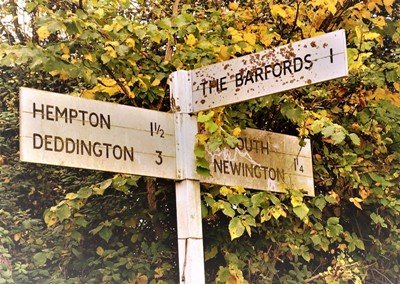 Photo by Mark Mawston.
As the school was situated in an area of outstanding beauty, it was a wonderful experience for both the kids and us. I took the chance between rides to visit a famous farm shop in Banbury. This was the perfect place to get our provisions as the first thing that greeted you as you stepped out of the car was an old flatbed over-spilling with pumpkins taken from the field that day. I looked for the one I thought the kids would like and headed back to see Mauve do her first run, canter, and jump, which was great. Our abode this year was an old barn, running on one level in a wonderful location in Bloxom, just up from what must be the perfect village name to head to at this time of year: Deddington! This obviously was one of the reasons why this cottage was appealing, but the choice was a great one and the kids and Emma loved it. Although we didn't see its wonderful views until the morning after, we decorated it before heading out for a meal at the Old Lion pub where we sat in a huge bow window with candles flickering, simply wonderful food, and a traditional pint of the black stuff for me of course!
The next day we met our friends and their new baby near Woodstock. Although it shares its name with the famous music festival, and Snoopy's feathered friend, this couldn't be further away from those. It's a really beautiful part of the country; the ancient wooden head, leg, and arm stocks which remain in the town centre courtyard allude to the origin for its name. It truly still feels medieval. My wanting to buy something to remind me of the trip was accomplished when I managed to buy an old weathervane I saw in an antique shop window. This wasn't your normal cockerel however; this was a witch riding a broomstick with a black cat on the back! A more perfect reminder you'd be hard pushed to find!
After lunch we visited the wonderful Blenheim Palace, which many of you would have seen in films as well as many a BBC-period drama. As Winston Churchill said, "At Blenheim I took two very important decisions; to be born and to marry. I am content with the decision I took on both occasions...." We also visited Churchill's grave in Blaydon as the churchyard was directly behind our friend's house, just after we'd finished their Halloween hunt they had done for the kids in their garden.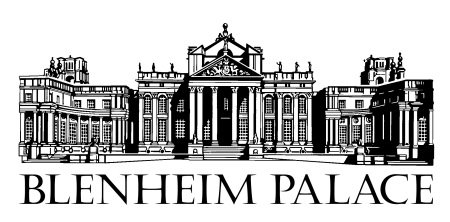 Although the palace and its gardens are truly spectacular, it was the "spooktacular" event they were holding after hours that we were booked into. I'd managed to get us onto a special one-off "Ghost Walk" around the palace itself after everyone had left at 6 p.m. About 30 of us who were lucky enough to get tickets were shown around by the hunchback servant (all very Ygor) who took us to all the different rooms where either someone had died or it was said to be haunted, and there were a lot of them over three floors. Even Emma said that this was one of the best things we'd ever done. I had to agree as the staff had obviously got into the "spirit" of it, too, and were making moaning sounds and banging doors at every turn, which both terrified and delighted the kids in equal measure. It really was wonderful. Where could you say that you could end a tour in a marble crypt? It was fantastic.
The next day we visited some salvage stores and a wonderful bookshop where I got a great mummy book in the village of Chipping Norton (how quintessentially English is that name?) before heading home in the mist and another wonderful autumnal sunset.
Halloween 2016 fell on a Monday. I've always loved a Monday for Halloween for some reason (I remember watching Star Trek after school with lots of trick-or-treaters as a kid, which may be why). The only downer was that the kids were at school till 3:30 p.m. on the day, but we made up for that when the whole of the high street where we lived invited kids to dress up, and all the shops gave away candy as part of a "Halloween Trail." It really was amazing to see, and just as many adults joined in with some really great fancy dress costumes on show. Even the local policeman was mistaken for one of them, which everyone thought was hilarious (below)!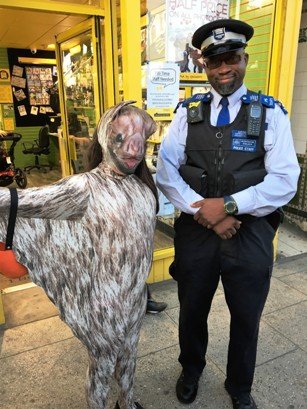 "The Bat" with a bemused policeman.
Photo by Mark Mawston
The next day was a dream come true. If you were to name a movie director that you associated with this spookiest time of year, a few come to mind: John Landis, Howard Hawks, and James Whale. But only one has ever made and named their breakthrough film around it. I can't remember the last time I was this excited about taking photos at a concert, but as this was director-composer John Carpenter playing all his greatest hits on Halloween itself, I'm sure you would understand my excitement. When my friend Darren and I arrived at the show we were greeted by the headstone of "Judith Myers" (Michael's deceased sister, by his hand, of course), surrounded by pumpkins! This only added to the excitement. We had great seats and the concert manager gave me a "Release the Bats" poster; so I already loved it, but to go down and finally get to take John Carpenter's picture was something else. I'd met John once before many years ago at a BFI celebration of his work and was one of the people who managed to ask a question. It was along the lines of, "Why do helicopters feature so much in your work?" to which he replied, "I'd always wanted to pilot one."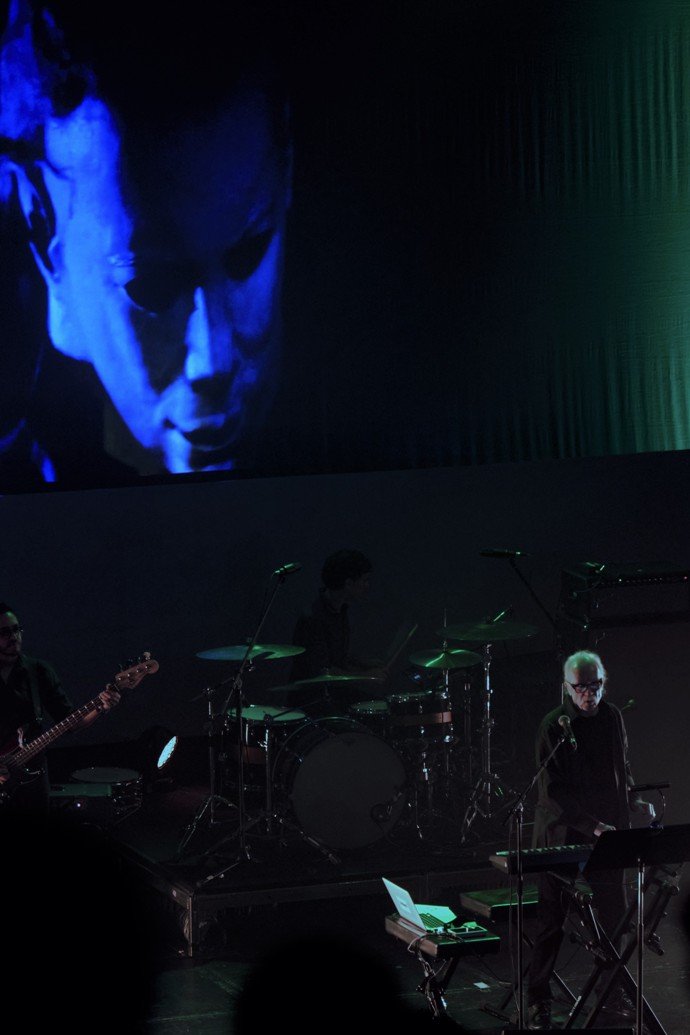 John Carpenter under the gaze of Michael Myers.
Photo by Mark Mawston
As I waited pre-show, a lady came up to me and asked whom I was taking photos for. When I told her the magazine and the fact that it really was for myself, as John had been someone I'd always wanted to add to my portfolio, she introduced herself as Sandy King, a.k.a. Mrs. Carpenter! We had a great chat about John and her role as producer of his films, and as I was eulogizing about John's work, we were joined by the great man himself! I couldn't believe it. How perfect was this; standing with John Carpenter, with his wife Sandy, backstage, just before he does a Halloween gig! As I've said many times through the years, the fanboy in me is always the main reason why I find these moments so special. You never stop being a fan, even though you have to look as though you are in a professional capacity — this goes for everything, from photographs to interviews, but I never have or will take any of it for granted. The pictures came out as well as I could have hoped and I sent them to Sandy, who said she loved them and would show them to John and keep copies. You can't ask for more than that.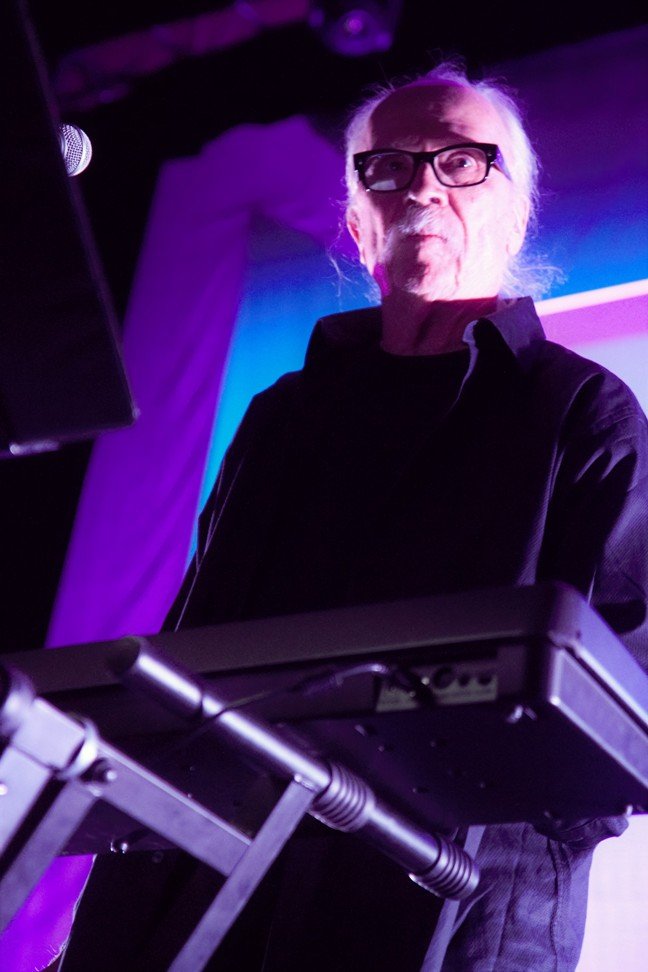 John Carpenter in action.
Photo by Mark Mawston
After this, the traditional "Hall Drive Bonfire" we have in the copse at the end of our street was eventful, as the shed I'd demolished with my dad when my parents came to visit meant that the bonfire itself was a rather vehement one and could probably be seen from space when everyone else's wood offerings were thrown on! Even the fireworks were crazy this year, screeching just above our heads rather than up in the sky. When one whizzed past my shoulder as I protected my six year old, I thought it was best to join Mauve in the house. She hates noisy fireworks nearly as much as she loves Halloween!
To finish this year's celebrations was a fabulous Hammer-themed film festival and fair at Westminster. Those in attendance were a who's who of fright fare, including Barbara Shelley (who kindly signed my Cat Girl poster), Peter Wyndgarde and Jane Morrow (both of whom I later interviewed for Cinema Retro – Peter's being the first interview in about 25 years – so look out for those), Dave Prowse, David Warner, Jacqueline Pierce, Dana Gillespie (another 2017 interview that will appear in Cinema Retro), and Suzanna Leigh (as part of a reunion for The Lost Continent, 1968), and many more.
All in all, Halloween 2016 was one of the most memorable for many reasons, and I hope you've enjoyed reading about them over the years as much as I have enjoyed recalling them in Scary Monsters.
It was nice to head towards the end of the year on a happier note compared to the start, which goes back to my opening mention of David Bowie's passing. Although we lost far too many great stars whose work we loved in music and film after Bowie, I'd like to dedicate this piece to Vince Rotolo, my great friend from The B-Movie Cast (bmoviecast.com) that I know a lot of you listened to. His passing was a terrible shock. He really was a wonderful guy, and so, as he said, "Till next time; go grab a beer and a TV dinner and go watch a B-movie." Although we'll always keep watching the skies, there were more than a few stars added to the heavens this year, but, as ever, we'll still get to see them lighting up the darkness. Ciao.
Mark Mawston is a writer and photographer based in London, England. His two main passions are music and movies, and he spends much of his time interviewing and taking photos of many of his heroes from both fields. He is a regular contributor to Cinema Retro, Scary Monsters and Record Collector Magazine. His other great love, bar Rock 'n' Roll and B Movies, is the world of James Bond. He is official photographer for the many events held at Pinewood Studious through Bondstars.com and was consultant on the celebrated documentary Everything Or Nothing: 50 Years Of James Bond. Mark also documented the last decade in the life of Ray Harryhausen as his photographer and friend and continues to work with the Ray and Diana Harryhausen Foundation, which will soon be celebrating Ray's centenary. Mark has, as Ray once told him, never lost his sense of wonder, which he hopes is reflected by his own children's love of all the above — the next generation of Monster Kids.
Copyright 2017 Mark Mawston, in cooperation with Scary Monsters Magazine and MyMovieMonsters.com. All rights reserved. Other images are used for nostalgic journalistic, informational, educational and/or commentary purposes and are the property of the copyright owners or rights holders, if any.
*****