JANUARY 2019
Posted January 6, 2019
Special Offer for Scary Monsters Readers!
In our Scary Monsters #111 It's About Time, It's About Space Issue (now available for order on this website and at Barnes & Noble, Books-A-Million, newsstands, and comic shops, writer/interviewer Rod Labbe interviewed Dark Shadows star, actress, and author Kathryn Leigh Scott. In the interview, she announced a special deal for Scary Monsters readers on her coming-of-age vampire book Dark Passages. Click here to order! Limited time offer. She will sign your copy by request, too. Thanks Kathryn and Rod for helping us keep things scary!
DECEMBER 2018
Posted December 17, 2018
Now In! Scary Monsters #111 It's About Time, It's About Space
Our second augmented reality-capable issue of Scary Monsters is going out to subscribers and those who ordered copies online or by mail order. Barnes & Noble, Books-A-Million, Chapters/Indigo (in Canada), newsstands, and comic shops should have it available in the next couple weeks.
Be sure to download the free HP Reveal app to your smartphone to make the front and back cover -- as well as at least 19 of the 144 inside pages -- come alive with augmented reality! This means that when you open the app on your phone and hold it over certain photos or images (and the cover artwork), film clips, trailers, and sound will be automatically triggered to give you an added experience while reading the magazine. Here's a hint: the first inside page with the AR feature is page 25. See if you can find the rest! Also, if you haven't done so already, pull out (or purchase) Scary Monsters #110 to view and hear the surprises hidden in that issue -- our First Annual Halloween Spiritacular.
So, enjoy going back and forward in time with us with Scary Monsters #111! Merry Christmas, Happy Holidays, and Happy New Year to all of our scary customers!
SEPTEMBER 2018
Posted September 22, 2018, Updated September 27, 2018
Scary Monsters Contributor Mark Glassy and Frankenstein Exhibit
One of Scary Monsters magazine's top writers is featured in the Scary Monsters #110 They're Alive Again Issue now shipping (Order Here). The feature article tells of the involvement of Mark C. Glassy, Ph.D. in a major exhibit titled "Mark Glassy and Frankenstein: Men of Many Parts" that has opened at the University of California at Riverside and runs through December. Guided tours are also scheduled. Click here for info and to register. Be sure to watch the wonderful video on Mark at the bottom of the UCR web page.
Posted September 9, 2018
Scary Monsters Announces Surprise for Issue #110
Scary Monsters magazine's #110 They're Alive Again Issue coming the first week of October 2018 is not only its First Annual Halloween Spiritacular, but it's the first to be Augmented Reality-capable!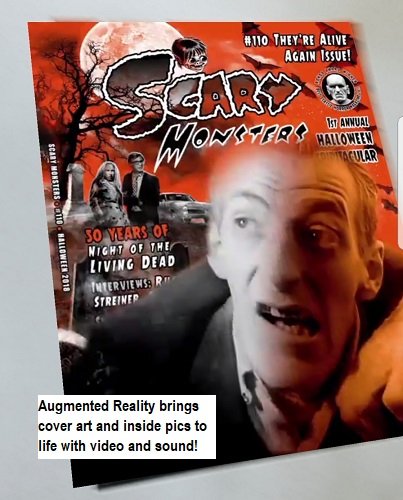 Readers wanting to experience the sights and sounds of zombies coming alive and other tricks and treats will want to follow these instructions:
1. Download the free "HP Reveal" app to your smartphone from Google Play, iTunes, or other app stores.
2. Create an account.
3. In the "Discover Auras" search box, type Scary Monsters Magazine. A list of Scary Monsters Magazine images will show up. Click on one of the listings, then click on the "Follow" button. Once the Follow button turns blue, click on the "Back" arrow. This brings you to the listings. Click "Cancel." This brings you to the main screen.
4. Press the round, blue button on the bottom of your phone's screen. You will see white dots pulsing in and out on the screen. Now you're ready. Hold your phone over the front cover of #110. Actor Bill Hinzman will come alive. Try the back cover next. Yikes! Then move on to the inside pages. There are a dozen photos inside that come alive! Will you find them all?
You can expect subsequent issues to have Augmented Reality features as a little extra to our readers! Scare you later!
AUGUST 2018
Posted August 18, 2018
The Clutching Weed
By Russ Hill
There was something about the slimy kelp that was frightening!
I was swimming in the ocean in front of my summer bungalow in South Jersey when I first encountered the seaweed and, for the first time in years, thought of Eel Harris. It had been a hot, sticky August day , and the breeze came from the inland and brought no coolness but only flies.
Wearing only a bathing suit, I had worked as long as I could at the papers I had brought down from the office for the weekend. But at last I yielded to the heat and walked across the beach and into the water. It was cool and green and refreshing, and I started to swim out to the breakers.
After a few strokes, my hand pushed through a patch of seaweed. As I shook my hand to get rid of the weed, the end slapped clammily around my neck. I guess I got excited and started to thrash because I was soon entangled in several strands. A large wave threw me back into shallow water, where I could stand and peel it off.
The seaweed was tough and rubbery and was in long, wrinkled streamers like the crepe paper we used to use for party decorations. It had hard brown nodules like staring, malignant eyes, and it seemed to wrap around my hand when I pulled it away from my body.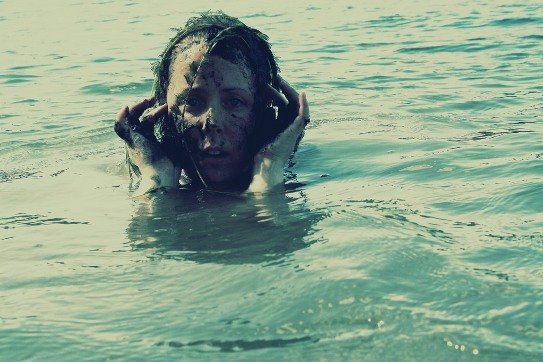 It was completely different from the Christmas-garland-like weed that grew in Bass Lake. And yet, as I hurled the distasteful stuff far into the breakers, it made me think of Eel Harris and my boyhood summers.
It had been so long since I had thought of Eel that it took several minutes to remember that his first name was Charles. We called him Eel because he was so good at swimming under water. His favorite trick was to snake around under water, fluttering his feet slightly to keep moving, and suddenly pull some unsuspecting person under.
As he pushed his victim further to the bottom of the lake, he'd come to the surface and bellow, "Set 'em up in the next alley!" Then he'd be off for someone else.
We were enemies without actually fighting. I never understood why it was, but I know he never missed a chance to taunt me or torment me with the most painful roughhouse. When the gang went swimming at Bass Lake, he certainly dunked me more and held me under longer than anyone else.
"Well, the Twerp," he would say, spitting more water than necessary as he confronted me. "Let's see if you can break this simple, little hold." Under I'd go, struggling vainly against his hammerlock, until he scornfully shoved me to the surface.
I had always been repelled by the water weed that grew so abundantly in Bass Lake. Once I inadvertently swam through a patch of it, and when I got it wrapped around my arms, I became panicky and started to struggle instead of pulling out slowly. I got thoroughly tangled in the stuff and lost my head. I was under water and my lungs were bursting. And still I thrashed against the weed instead of swimming to the surface. A couple of fellows pulled me up and dragged me to the float.
As I sat there panting and persistently removing every trace of the hateful, clinging strands, Eel clambered up with a handful of weed. He draped some around my head in a crown and proclaimed regally, "Guys, meet the new Water King. He can't even fight his way out of a bed of seaweed!" The others roared with laughter, and Eel knew he had a wonderful joke.
After that, I always went to pieces when I encountered water weed. Eel took advantage of this, and for the rest of that summer, he always had a bunch of the weed handy so he could throw it over my arms and hold me under while I struggled frantically with it. One time I was so frightened I almost didn't make it to the surface when he let go. From then on I never went in the water if Eel was near.
The following year I beat Eel in the competition for the college scholarship. He hated me for it.
"I'd have won if he hadn't cheated!" he told anyone who'd listen. When they didn't pay any attention to him, he muttered menacingly, "I'll get even with him some day."
Before that he had only been playing. But now I knew he was really out to hurt me. I didn't go to Bass Lake at all after that.
In the fall, I went to college, and Eel went to sea. After a while I stopped thinking of him and forgot my fear of water weed -- until that day in the ocean.
I knew it was foolish, but after that I was afraid to swim in front of my bungalow. Even on the hottest days, I trudged a half mile up the searing sand to the public beach where there were always several lifeguards.
A few weeks later, a storm washed in great quantities of seaweed. I felt a peculiar sense of dread at the thought of swimming in it even under the eyes of the lifeguards. But the day was hot and glaring, without even a whisper of a breeze to disturb the big, buzzing, biting, green bottle flies, and my eyes hurt from squinting in the sun. The cool, green ocean was so inviting; I went in anyway.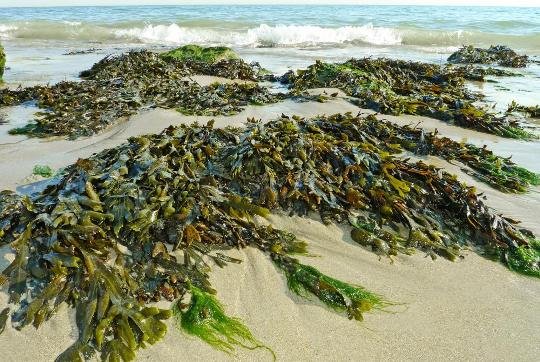 Everywhere I went in the water there seemed to be seaweed. Soon I was tangled in it, and my old fright came back. As I struggled to be rid of it, a wave knocked me off my feet. I struggled to get to my feet and to shake off the clinging seaweed. As soon as I shook off one piece another wrapped around me. One piece wound around my throat -- like a pair of slimy hands trying to choke me! As I fought against the weed, and struggled to come up for air, I realized with a horrible, sickening dread that the weed was actually fighting against me! It was hindering me so much that I was being swept out to sea!
I struggled harder and more desperately to keep my head above water! But the clutching weed kept my arms bound. I stayed in the grip of the undertow! And I couldn't get to the surface....
Somehow, I must have yelled for help, because the lifeguards came and dragged me out. They pulled the seaweed off my trembling body, and even then, it still seemed to clutch me as though it were waiting for a chance to drag me back to the depths of the sea.
"You shouldn't fight the undertow like that, Mac," they said, as they said to everyone they pulled out. "Just relax, and you can get to the surface and let the next wave carry you in." Then they sent me home for a rest.
I wish I could be sure it was just the undertow -- because when I arrived at the bungalow, the mail included my hometown newspaper.
One story on the front page started, "Charles Harris, a former resident, was reported lost at sea off the New Jersey coast last month...." I didn't read any farther.
I know I'm not going to go swimming anyplace again.
JULY 2018
Posted July 10, 2018
The Chimes of Doom
By Irwin Shapiro
Charles Hanover didn't understand the real power of the clock.
Back and forth, back and forth, Charles Hanover paced the broad landing on the upper floor of the old mansion. His glance kept shifting from the closed door of his Aunt Agatha's room to the huge, ornately carved grandfather clock that was solemnly ticking in the corner. Back and forth, tick-tock, back and forth....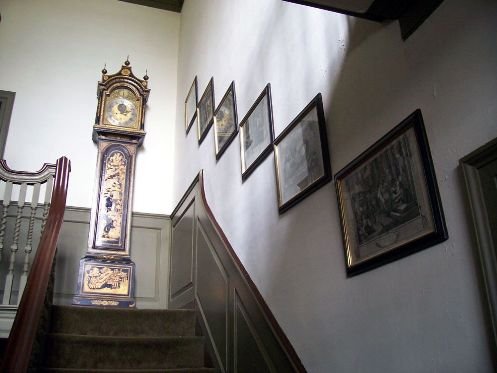 "Mr. Hanover, sir?" Mrs. Swanson, the housekeeper, had come up the stairs, and now she looked questioningly at him from the gloom of the deep stairwell. "How is she, sir?"
Before he could answer, Dr. Brooks came out of his aunt's room. He placed a gentle hand on Charles" shoulder.
"It's over, Charles. She never came out of the coma. Strange that she took a turn like that! I had thought, with proper care, she would go on for years. Still, one never knows with these cases.... After all, she was past 70."
"Of course, doctor. I'm sure you did everything you could."
Suddenly, with a harsh grating of gears, the chimes of the clock pealed out midnight. Charles whirled around with a cry of surprise. Loud, clangorous, the clock began to sound the hours: one, two, three....
"Stop!" Charles shouted above the chimes. "Stop it! Mrs. Swanson! Have this clock stopped! At once, do you hear?"
Breathing deeply, he regained control of himself. "I -- I'm sorry. I'm all on edge."
"We understand, my boy," the doctor said. "I'll give you something to settle your nerves. Besides, it's only fitting that the clock be stopped. Your Aunt Agatha set such great store by it."
After giving orders for the necessary arrangements, Charles retired to his room. How quiet the house was! As quiet as ... as death. For the first time since he had come here, and orphan boy of eight, the grandfather clock was still. He remembered Aunt Agatha speaking about it.
"You're going to live with me now," she had said. "Your parents spoiled you. But they're gone now; both of them. In this house you'll do things my way. And don't think you can deceive me! Have you seen that big grandfather clock upstairs? There are little men in it that ring the chimes. They'll be watching you all the time, and if you do something naughty behind my back they'll ring and ring and ring! So mind whatever I tell you!"
Charles had minded, afraid of the little men in the clock. Even later, when he grew up and was no longer afraid, he still minded. Aunt Agatha dominated him completely. She chose his schools and companions, ruled his actions, his very thoughts. He had wanted to be a chemist, but Aunt Agatha would not allow it. Why must he learn some vulgar profession? He was a gentleman, and gentlemen did not labor like everyone else.
Charles had not cared too much. Aunt Agatha paid his bills, bought him fine clothes, gave him ample pocket money. She could be kind -- when she had her own way.
But that was before he met Alice -- gay and pretty Alice, who thought he was the finest man on Earth. When he told Aunt Agatha he wanted to get married, she laughed her dry, hacking laugh.
"What?! You get married? And to a waitress, at that! Ridiculous, my dear boy!"
"But Alice is different. She loves me! She...."
"Pah! Nonsense! She's after the money you'll come into some day, when I'm gone! No doubt you've mentioned that I hold the Hanover fortune in trust for you and that it will be yours on my death."
"Very well. I'll leave! I'm 37 -- old enough to know my own mind! I'll get a job!"
"Really, Charles? What can you do? You've no training, no ability, no experience. And how long would you last in a store or office? You're used to luxury Charles. You're soft and you're weak. No, you'll never leave me. And I want you with me. You're all I have. We need each other, Charles. Now let's say no more about it. I'm willing to forget it if you are."
Aunt Agatha had been right. He had not been able to bring himself to leave. But he had not forgotten. He had continued to meet Alice secretly from time to time. He had told her that they could not be married just yet. A few more months, perhaps a year, and he would be in position to marry.
And now Aunt Agatha was dead, and he was free. Free to be himself, to marry, to do anything he wanted! Free at last!
Then he heard it again -- the chimes of the clock pealing out midnight. With a roar of rage he burst out of his room.
"Mrs. Swanson! Mrs. Swanson!" he called. "I told you to have that clock stopped!"
He was at the landing now, and Mrs. Swanson's voice came up the stairs:
"It was stopped, Mr. Hanover!"
"But I heard the chimes!"
"You ... you must be mistaken, sir! There hasn't been a sound in the house!"
Charles stared at the clock. It was true -- the pendulum was stationary, the hands motionless, the gears and springs silent.
"Get me an axe -- or a hatchet!" he ordered.
"Sir?"
"An axe! We must have one in the basement somewhere! Hurry!"
Charles remained there, staring at the clock until Mrs. Swanson handed him an axe. While she watched, horrified, he raised the axe above his head and brought it down on the clock. Methodically he destroyed the clock, smashing the case and the glass, shattering the gears and springs. He tossed the axe on the pile of wreckage and turned away, trembling, panting heavily.
"Have this ... this rubbish taken away. Immediately," he said, and returned to his room. Exhausted, he flung himself on his bed and fell into a deep sleep. How long he lay there he did not know, but when he awoke he heard the clock again. The room resounded with the ringing of the chimes. He pressed his hands against his ears, but he could not shut out the terrible sound.
He left the room, stumbled through the house, but there was no escape. He shut himself up in the library, tortured by the awful clangor of the chimes. Louder and louder, again and again, the chimes pealed through the night. It seemed to surround him, to fill the whole world, clanging, vibrating, echoing, peal after peal after peal. It hammered at his brain, crushing his senses.
Dawn was breaking when he lurched from the house. He got into his car and drove furiously to the funeral chapel. The chimes kept pace with him, ringing out in a mad torrent of sound.
"My aunt -- where is she?" he said to the amazed attendant.
"Right in here, Mr. Hanover. But...."
Charles pushed the man aside. He threw himself on his aunt's coffin, clawing at it, beating on it with his fists.
"Aunt Agatha!" he shrieked. "Aunt Agatha! Come back! You're the only one who can stop the chimes! Yes, I gave you an overdose of your sedative! I killed you! I had to do it! I had to be free of you! But the little men in the clock -- they saw me! They keep ringing the chimes -- ringing and ringing and ringing. Can't you hear them? You've got to stop them! Please! Please! I'll never leave you, Aunt Agatha, if you'll stop them now!"
His head dropped, his body shaking with sobs as he lay across the coffin and clutched Aunt Agatha's cold, lifeless hand.
He was still holding her hand when the police came for him.
JUNE 2018
Posted June 17, 2018
Horror on the Hill
By John Martin
As they came out of the cottage, Jeff Crayton threw a wry glance at his companion.
"You're foolish, Robb, to attempt a climb like that. Besides, think of it, man, you've been invited to my brother's wedding. It's hardly polite to…."
Down in the village, down the long, green slope, the tall white spire of the church trembled to the peal of bells. But Robb Martner didn't hear them. He didn't even seem to hear Jeff Clayton's voice. Martner's eyes stirred restlessly away from the small fishing town, ran darkly up the slope, and fixed on the steep granite cliff behind the town. It towered crazily out to sea and above its majestic, craggy peak, wild sea-birds wheeled and cawed. He had no eyes, no ears for the birds — only the gray, weathered cottage that hung on the peak's edge like a witch's hat.
"I'm sorry, Jeff, I can't go," said Martner finally. His voice had a dream-like quality to it suddenly. "It isn't that I want to slight Henry and Amy. It … it's just that I want to climb the cliff." A forced note of humor entered his voice, "After all, I'm here in Buryport to relax, Jeff. That's why I retired … came here. I think I'll start by finding out what the inside of that cottage looks like. The view from the seaward side must be magnificent!"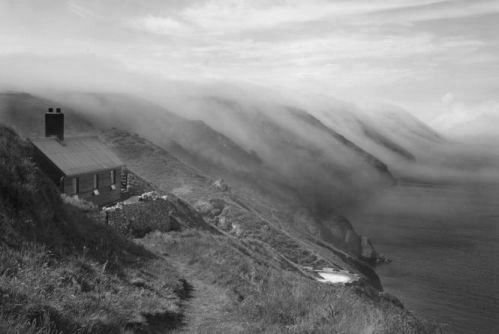 "Have it your way," Jeff said distastefully. "But if you'll take my advice, you'll leave Captain Martner strictly alone. As for the view, no one…." Jeff stopped abruptly as if he'd said too much.
"It is remarkable about the similarity in name, isn't it?" Robb Martner said slowly. Now the high old house was mirrored in his eyes. "I suppose the Captain and I are related somewhere back along the line. Plenty of Martners used to live here in Buryport. Perhaps … perhaps the Captain and I can talk it over."
Clayton looked at his friend helplessly. "Robb," he said finally. "No one, as far as I know, as ever climbed that cliff … and come back." No one except the Captain, anyway."
"Nonsense," Robb said. "It's just a few thousand feet. The ascent isn't overly steep. It just requires endurance, that's all."
"All right then, I'll tell you," Clayton said grimly. "And if you want to go up there when I'm finished, well …." He paused then continued: "Only two men in the past 10 years have ever attempted scaling the cliff. And both of them made it. Only…," Jeff's voice cracked, "…both fell into the sea just where the ledge road turns the cliff edge." He pointed….
Robb saw it — a thin ribbon of gouged rock winding up the face of the cliff.
"Bad nerves," he said, but he couldn't hide the sudden note of tension in his voice. Then he shook himself vigorously. "But I'm going anyway. I like the atmosphere of Buryport, Jeff. It's wholesome, it's clean, and it's redolent of the sea. Often back in the city, I wished my parents had stayed here. I'd have liked to be a sailor, owned a schooner, and sailed the seas. After all, you have," he pointed to a 30-foot single-master riding at anchor in the harbor. "That's Captain Martner's craft, isn't it?"
Jeff shuddered. He nodded and got into the car. Robb started walking along the spine of the grassy rise that led to the cliff-side trail. At first, he was exhilarated by the sheer daring of the climb. Then, halfway up, he began tiring. The task was harder than it had seemed. And the gray house was nearer only with infinite slowness. At last he reached the spot from which Jeff said two others had fallen to their deaths. Idly he wondered why. The road — carved from the living rock of the cliff itself — was over a yard wide at that point. Of course it wasn't entirely level — it tended to spill off toward the sea roaring a thousand feet below. With the wind whipping around him, Robb took a deep breath and rounded the curve.
He didn't hear the rock splitting beneath him until he'd passed. Then the slow grumble reached his ears and he looked back, blanching. Behind him, a good six feet of the trail had disappeared.
"God, that was close!" he muttered, drawing back against the sheer rock wall. He didn't hear the segment of trail hit the water, but he saw the splash, leaning dizzily forward. Then he looked up. Before him the trail was clear, and he couldn't go back. Not now, anyway. The only way clear was to the top.
The trail grew steeper. About his head the wild sea-birds fluttered, shrieking their nameless cries. Looking up, he saw the sky suddenly overcast. A brisker wind sprang from the tossing, black waters. He just made the lip of the cliff in time. Another few minutes and the wind would have blown him over. Then the cottage squatted before him. He had to push against the wind across whipping tall grass to reach it. He fumbled with the ancient door latch. The door smashed back. An instant later, he stood within, in the semi-darkness of the beamed interior, lit only by the roaring flames of a fire. His eyes swept the room.
"Empty, by god!" he said. Then he gave a start as a figure stirred in the old captain's chair by the fire. A thin chuckle oozed from the shadows.
"Not empty, Robb, not empty yet. I'm here."
"The Captain!"